Le Domaine de la Yole
ADVENTURE PARK
If you are looking for thrills, Pangaea Adventure Park, in Valras-Plage in the Herault region is right for you! Set up in the woods surrounding the campsite and the eponymous vineyard, at only 500 metres from the seaside and the beach, the campsite is the perfect place to enjoy a morning or afternoon of adventures from the age of 3. On land or in the trees, with family or friends, with your colleagues or other holidaymakers, La Yole Adventure Park offers you breathtaking sensations at 9 metres high:
Zip lines, treasure hunts, entertaining activities, BMX courses, etc… Different activities and unique workshops await you for a day of adrenaline, shouting and laughter !
AN ADVENTURE PARK IN THE HERAULT
The adventure park Pangaea, in the region of Herault has many surprises for you ! For your holidays, birthday, bachelor party, with your family or in group, come and enjoy a wide range of activities, each one more exciting than the other! Kids and adults can share a park fully landscaped in the forest, close to the beach, between the seaside resorts of Valras and Vendres-Plage. Treasure hunt, tree-top adventures, obstacle course, Bungy launch, etc. You are sure to hit it big with the activities offered by our Adventure Park in the Herault !
High acrobatic courses are fun and challenging courses where the practitioner moves from tree to tree in an autonomous and secure way. The activity allows you to enjoy a preserved nature while evolving in an acrobatic course, combining fun and thrills. Our continuous belay system allows you to work on your motor skills under our full supervision.
It is the perfect opportunity to test your limits and surpass yourself, to overcome your fears and to satisfy your recklessness by becoming a true adventurer!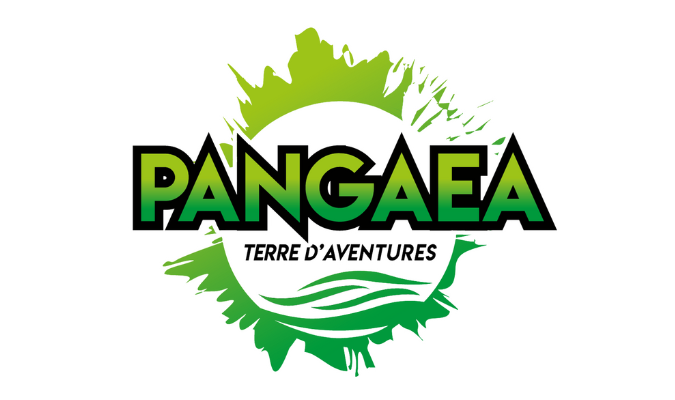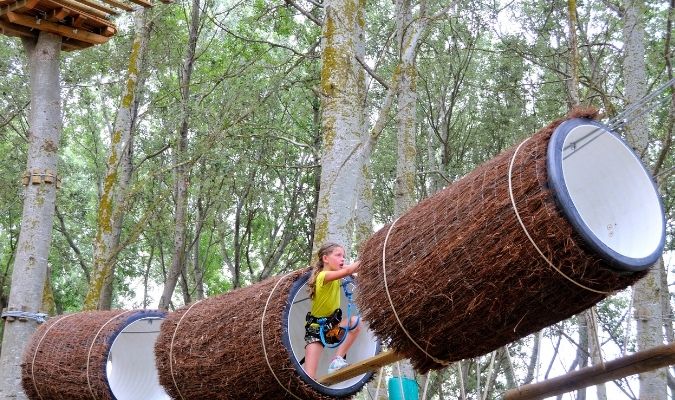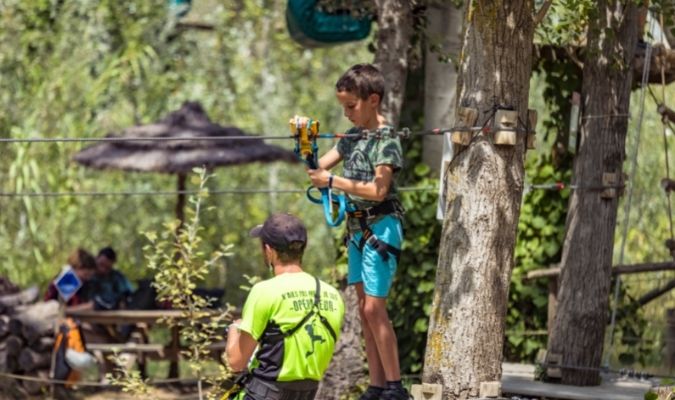 ADVENTURE COURSE
Pangaea Aventure offers you a range of 8 courses of different levels from 5 years old :
«Initiation» course
An « Initiation » course, mandatory briefing! Even the greatest champions are warming up!
«Perroquet» course
Indigo level, from 5 years old (possibility of ground support)
«Mat'l'eau» course
Purple level, in family from 5 years old
«Jambe d'bois» course
Green level, in family from 7 years old
«Vigie Pirate» course
Yellow level, in family from 9 years old
«Corsaire» course
Orange level, in family from 9 years old
«Cap'taine» course
Red level, in family from 11 years old (minimum height 1,40m)
«Amiral» course
Black level, in family from 11 years old (minimum height 1,40m)
Come ride a BMX at a height of 6 meters. Slide on a 100-metre zip line. Jump in from a Platform from 9 meters above the ground. Walking on a slackline at a height of 6 meters. Enjoy the climbing wall ! Hang on a liana and jump like Tarzan. Try the famous rope climb of the black level course. Surf in the air…!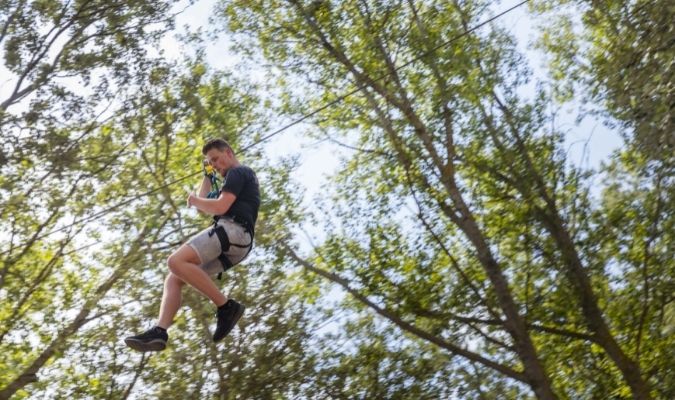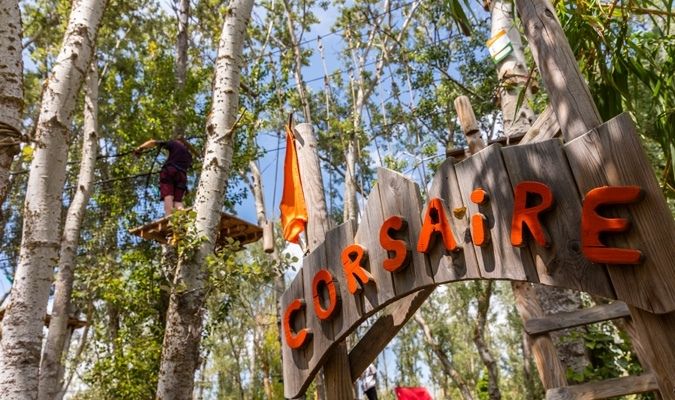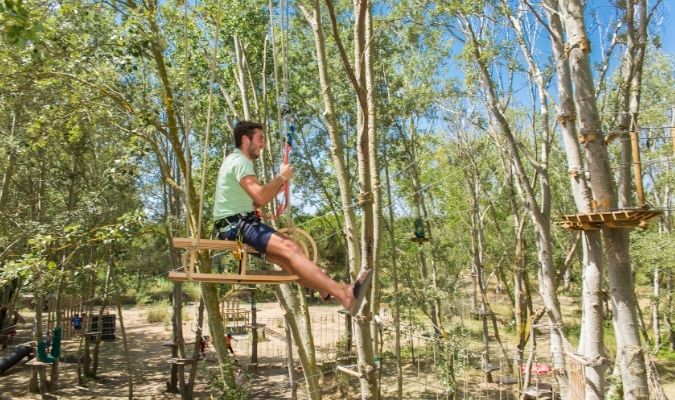 ARBOFILETS ©
Courses with nets are new acrobatic courses where the practitioner can move freely, without equipment. Real seas of coloured nets stand between the trees, the canvases are stretched like trampolines. The feeling of rebound and the illusion of walking above the void will provide you with amazing sensations.
Come and walk above the void and feel the weightlessness !
The large net area is now equipped with a labyrinth and giant balls! You can try Net Zorbing, a great rugby at a height of 3 meters, equipped with Bumper Balls, hit your opponents, jump, bounce back!
Pangaea Aventure has designed especially for you 2 Arbofilets © from 3 to 6 meters high :
A 90m² net area exclusively reserved for the « P'tit mouss » offer for 3/5 year olds ;
A 300m² net area for the whole family from 6 years old !
Closed shoes and T-shirt required !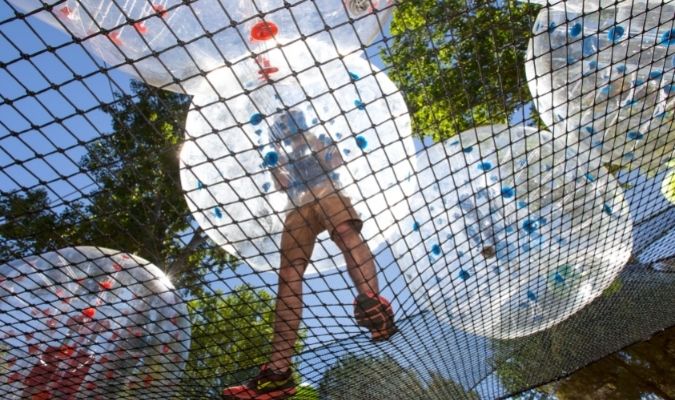 OBSTACLE COURSE
We have designed a unique obstacle course to challenge you in a duel, with friends, family… This is a ground activity composed of 8 obstacles that must be overcome as quickly as possible while remaining cautious of course!
To make it even tougher, you will be tied to a continuous rope that you can only get rid of at the end of the course. So be careful, sometimes the speed will play tricks on you, you have to stay focused in order to follow the path of the rope that runs along the obstacles. Come and challenge yourself on a special obstacle course… !
Pangaea Aventure has designed unique obstacles especially for you: Hand ladder; Above and below; Elastic spider web; Post forest; Sandwiches; Inclined wall; Ramping…
Alone or in a duel!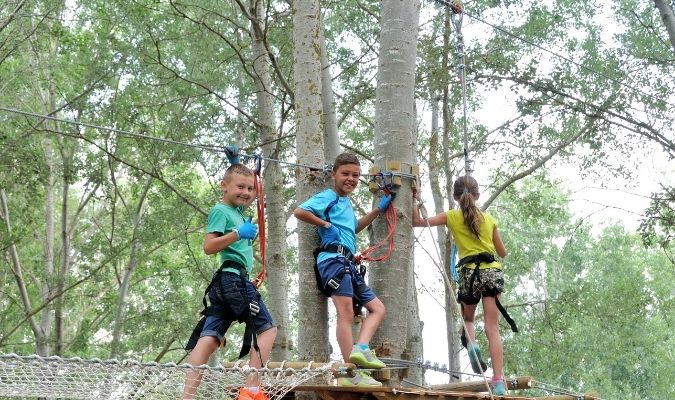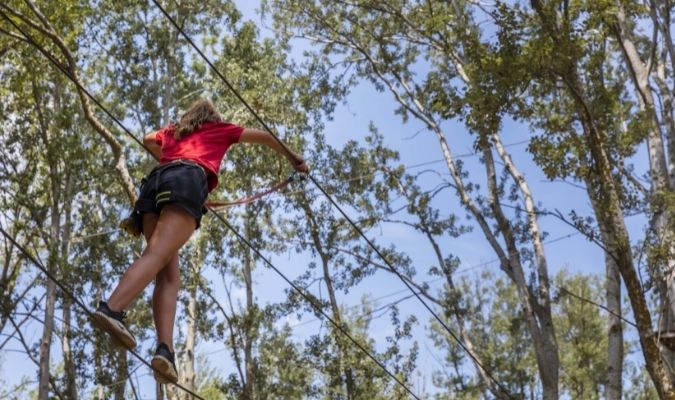 TREASURE HUNT
Search for the treasure of Barbosa the pirate, lost in a historic battle against the Spanish conquistador fleet. Imagine that hundreds of years ago, when the sea still covered La Yole Aventure Park, and the sand under your feet covered the depths of the salt water, a memorable battle broke out between Barbosa's boat and a Spanish ship. Under a violent storm, on a rough sea, for three full days and three long nights, the guns raged, the swords clattered, the sails in flames fell to ashes, in an unbridled struggle. Barbosa had won all his battles, collecting more and more gold and jewellery, until that sad day when the damage was so great that his boat sank, taking away the famous treasure. For nothing in the world, Barbosa the pirate would not have abandoned his treasure and dived in search of it but no one ever saw it resurface.
According to legendary accounts, Barbosa's treasure would be somewhere in the park, it is also said that it would be guarded by the pirate's soul… Completely by chance, during his expedition to these lands, Johnny Bamboo found a mysterious map…
Help Johnny Bamboo decipher the map to lead you to the pirate's treasure, he'll give you his adventurer's case. A surprise awaits you !
Remember to wear closed shoes and long pants, the jungle is sometimes dense !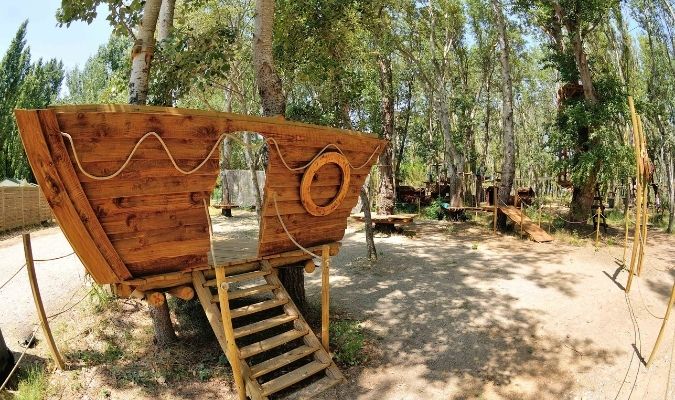 BUNGY EJECTION
EXTREME CATAPULT ! A completely new concept in the area! The Yole Parc Aventure is one of the only structures to benefit from this exceptional installation. If you already like extreme sensations, and want to feel the adrenaline rush, do not hesitate any longer, this new attraction is made for you !
In the middle of the trees, equipped with a full harness, an expert will send you into the stars at a height of more than 20 metres for grandiose and vertiginous sensations.
From 0 to 90km/h in 0.8 seconds !
Pangaea Aventure has created a dedicated space, called the « Canonnier » space where you can meet us for your an amazing experience.
From 8 years old or 30kg minimum (individual offer).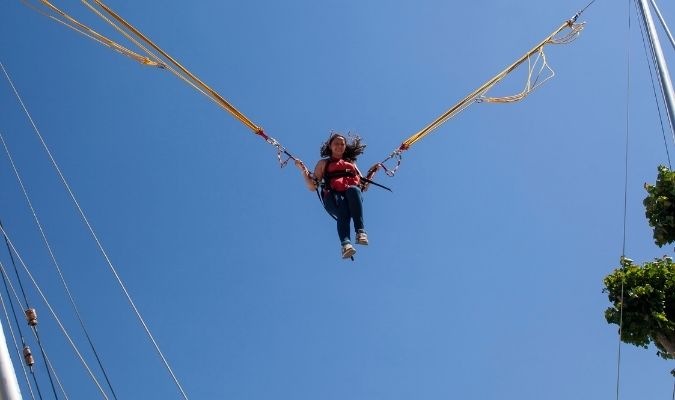 P'TITS MOUSS'
The P'tit Mouss' area is a space reserved for children from 3 to 5 years old, who are not old enough or tall enough to climb the courses on their own, and who are not able to assimilate all the safety instructions.
For them, our team has created a dedicated space :
A course without a continuous belay system and without equipment at a height of one meter;
A 90m² net course with balls and slides;
The village of beavers, small huts and acrobatic tunnels;
A space for games…
A small world stands here, you can climb into the stranded boat, jump into the air and play on the island, walk through the beaver village where Johnny Bamboo finds refuge during his expeditions…
The whole family can enjoy the park without limits !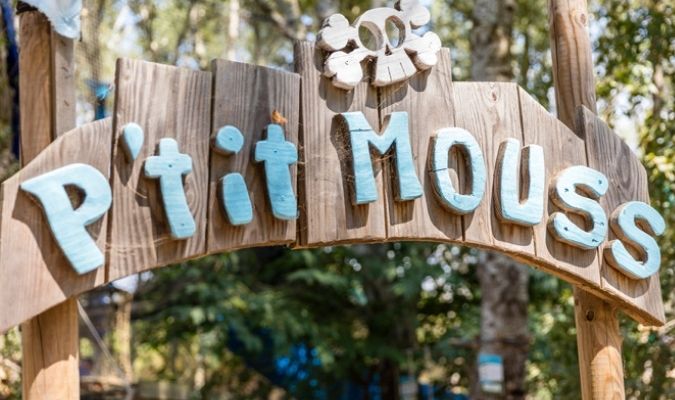 CONTACT & OPENING HOURS
Opening 2022
Schedules will be available soon!
Info & booking : +33(0)7 68 65 16 26, pangaeaventure@gmail.com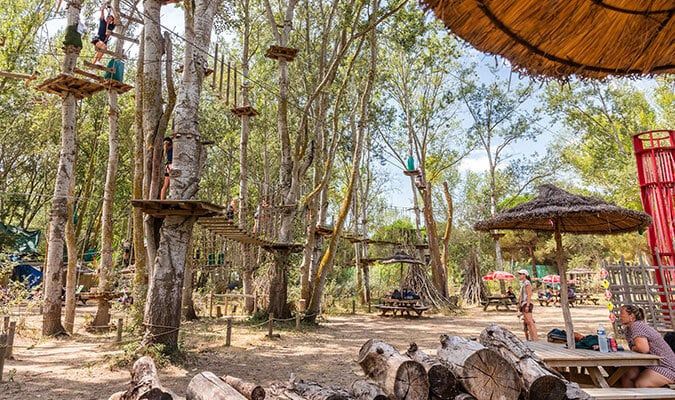 DO YOU HAVE A QUESTION? CONSULT THE ADVENTURE PARK'S FREQUENTLY ASKED QUESTIONS