Le Domaine la Yole
EATING AND DINING AT LA YOLE CAMPSITE
Above all, holidays are for relaxing and having fun! At La Yole Camping Lodge Camping Resort & Spa, we understand this, and that's why we're happy to offer you three different eateries for your stay here at Valras. No need to take your car and drive off-site, all these restaurants are onsite and each offers something different to enliven your taste buds! From the Comptoir des Saveurs at our Food Court, to the Farm Restaurant, you'll have the opportunity to taste the best of authentic cooking, Mediterranean cuisine or indeed food from around the world.
THE RESTAURANT
The restaurant is currently closed, but a number of catering options are available: bar, snack bar, bakery, catering service, etc.
At our restaurant Le Comptoir des Saveurs, you can eat outside on the terrace or in the air-conditioned dining room decorated in local colors. The chef offers a Mediterranean cuisine high on flavor, with dishes that have been put together to satisfy all tastes. From seafood platters to a refined cuisine, there's something for everyone, with varied set menus or a choice à la carte. Children's menus are also available, so the whole family can fully enjoy this flavorful experience.
Here are a few examples of what you can expect at La Yole's campsite restaurant:
Fish: Of course there'll be the fish of the day grilled on the barbecue, but we also offer cod served with aioli, calamari in Provençal sauce, king prawns… there are at least 7 different fish dishes for you to savor.
Meat: tartar steak, beef, duck… we've got everything you could wish for!
The campsite restaurant is an unmissable stop for a successful holiday!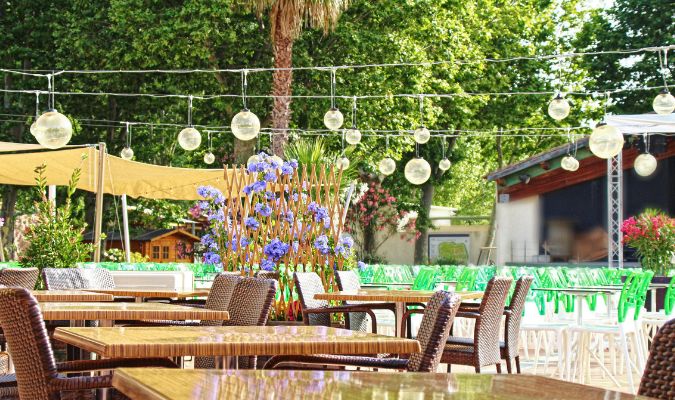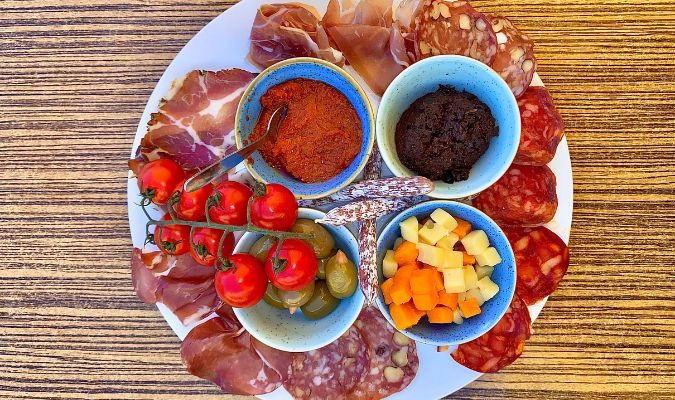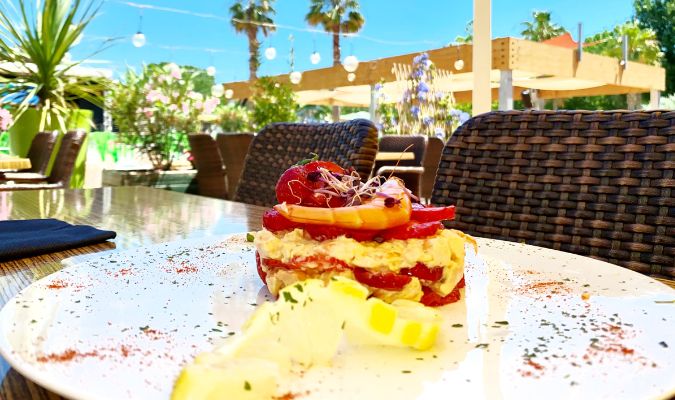 SNACK BAR: THE FOOD COURT
Holidays are meant for travelling the world – and talking of travelling, what about world cuisines? One of your group prefers pizza, another is into tacos, but the kids want burgers… it can be hard to decide where to eat when we want to please everyone. NEVER FEAR! You won't need to have those arguments again this summer. At La Yole, you can have your cake and eat it.
We have five world culinary specialities that the whole family will love. Travel to the end of the world and back in time for dessert.
Let's go to MEXICO! Put on your best sombrero, Bienvenido al Camping La Yole! Our tacos are excellent – as they say over there, ¡buen provecho!
How about the States? Ahhhhh, the famous hamburger… a sandwich unlike any other. It's a real American institution that you can find on every street corner in the US of A. Enjoy your meal!
What about a stop in China? Noodles are an important part of Asian cuisine, and there are so many different kinds! Sautéd in a wok, with chicken, Chinese cabbage, celery, carrots, vegetables marinated in ginger and soy sauce, there's a never-ending list of recipes to choose from! 祝好胃口。zhù hǎo wèi kǒu!
Off to Spain now, with a traditional Paella. Mmmm, just smell that famous rice cooked to absorb the flavor of all the different ingredients. ¡qué rico!
Last stop: Italy! And what's the most famous Italian dish… ? Pizza, of course! Una Pizza e buon appetito!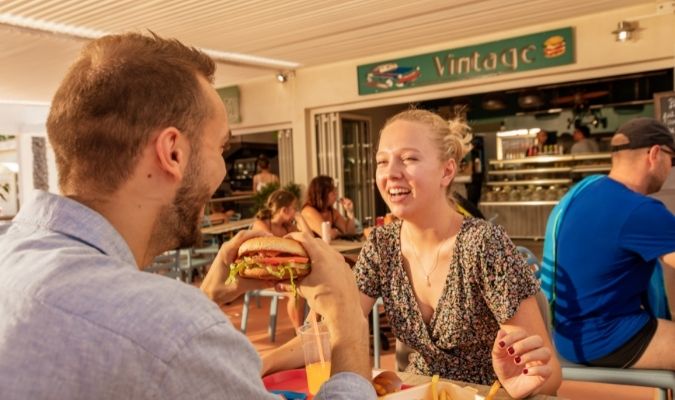 THE DELI SERVICE
To make things even easier, we have a deli where you can buy snacks or meals to take back to your pitch or your rental property, so you don't even have to cook! Isn't life great at our 5 star Mediterranean campsite?
What with paella, roast chicken and roast potatoes, couscous or seafood salads, the deli service has some mouth-watering dishes all prepared for you to take home, so you can enjoy your holiday at our 5 star Mediterranean campsite.
Enjoy your holidays to the max and discover all the different facets of Mediterranean cuisine thanks to our chef!
With the deli service, your taste buds will thank you – and the best part is, you don't have to do a thing! What more could you ask?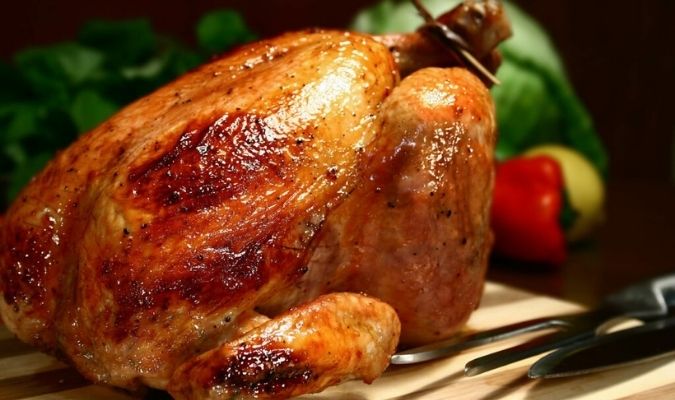 ICE CREAM BOOTH
Ice cream at any time and in any form! If you don't eat ice cream in the summer, it's time for a change…
Italian style, in a jar or in a cone, enjoy the artisanal ice creams and their bewitching flavors.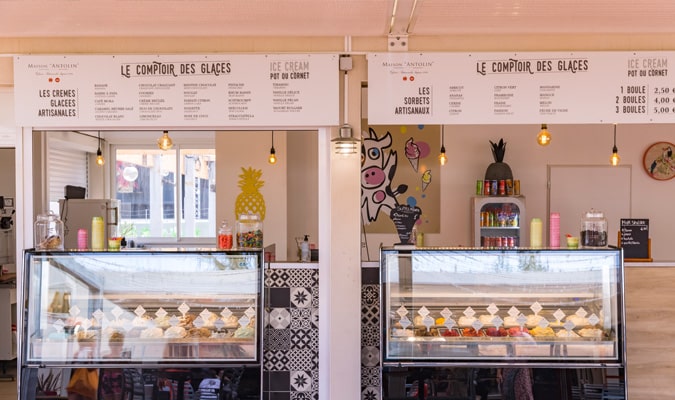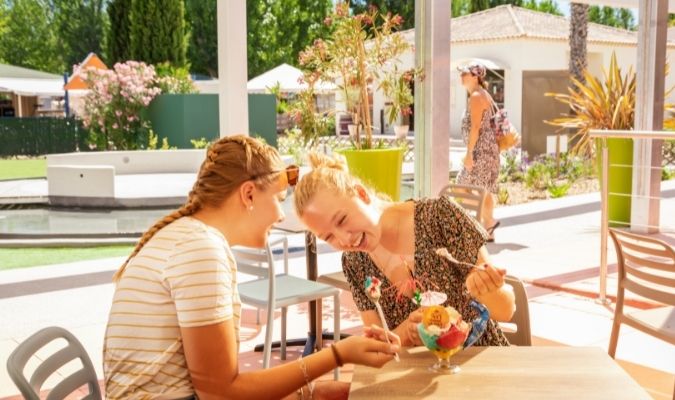 DISCOVER ALSO THE BARS AND THE CELLAR OF THE DOMAINE DE LA YOLE...